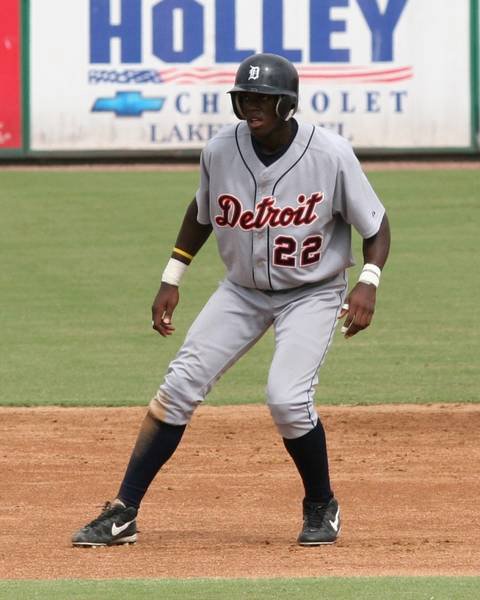 I spent much of my afternoon watching Revenge of the Nerds 3 today. A pathetic movie, but I lasted as much as a I could until Booger graced the screen and I felt somewhat vindicated that I lasted long enough to see arguably the most successful Berkley High School Alum of all time in action. This really has nothing at all to do with Cameron Maybin at all; I just like to talk about Booger every chance I get. But those lovable nerds always seem to be right and just in their cause. Baseball writers are pretty much the biggest nerds of them all, and they would all make fine Lamda Lamda Lamda's. Anyways, these honorary Tri-Lambs have basically annointed Maybin as being a mixture of "Ken Griffey Jr. and Darryl Strawberry....but better defensively then those two" and also being a very mature "18 year old"....whatever that means. Also, they meant Darryl Strawberry in a good way....not the coked out way. I'll be very disappointed with the Tigers if they drafted an 18 year old coke addict.

I'm always kind of suspect when I find out the Tigers drafted a high school player in the draft. I read Moneyball, and that basically made me think that Billy Beane was literally the smartest person ever to have existed in the history of the human species. So, I was sort of upset with this pick at first. Then I started reading various articles about him, and that if it wasn't for justin upton (the #1 pick) he would have been one of the top high school position players in recent history. Also, this is what sold me. The Motherfucker has the major league baseball logo tattooed on his left shoulder and on his right shoulder he has a" crucifix with a baseball in the middle." I totally dig his religious beliefs.

Right now, Granderson is our CFer...but the Tigers have all intentions of having Maybin be the future CFer for the next decade or so. If everything goes perfectly, the Tigers outfield for 2008 will probably be Bret Clevlen in LF (another super-duper prospect), Maybin in CF, and Granderon taking over RF with at that time wrinkly old man Magglio taking over DH. This is nice, because all of the recent sucking is starting to pay off with good draft picks. I mean, Verlander and Zumaya are carving up major league hitters right now and they are both rookies. Verlander faced King Felix, also one of the best current prospects, and outpitched him yesterday in a great game. Verlander reached 100 MPH multiple times and topped out at 101 and keeps hitters off balance with an insane curve ball that usually is around 80 MPH. If he ever successfully develops a 3rd pitch, he'll be nuts.

Anyways, the Tigers are 12-7 and currently in 1st place for the wild card. Unfortunately, there are still 143 games to play, but for whatever reason the Tigers are 10-2 on the road right now. That literally makes no sense, but they start a series on the road against the Angels tonight. Not even Tony Danza (with an angel, not a bullshit fake one) can stop the Tigers march to a 130 win season.